History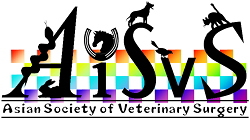 Asian Society of Veterinary Surgery was established in the meeting of major Asian members at Bangkok in May 8, 2011.

In 2009, 2nd Asian Meeting of Animal Medical Specialties (AMAMS) was held at Taipei, Taiwan.
This congress was first established by Asian College of Veterinary Dermatology (President, Professor Iwasaki of Tokyo Agricultural and Technology University) and Asian Society of Veterinary Internal Medicine (President, Professor Tsujimoto of University of Tokyo). The purpose of AMAMS was to establish the Asian veterinary specialty and to hold a meeting every two years (1st congress was held in China).

At the 2nd meeting in Taipei, there was a tendency that veterinary surgery group should join this congress, thus Professor Sasaki of the University of Tokyo called major members of Asian surgeons to join this meeting as Asian Veterinary Surgery Group (AVSG). Within this congress, business meeting was held with attendants of major Asian surgeons, and final decision was to discuss on how to establish the Society of Veterinary Surgery in Asia for the future specialty in each country.

In January, 2011, Annual Meeting of Veterinary Anesthesia and Surgery of Japan was held in Fukuoka, Japan, and AVSG was again held as a joint congress with this meeting. In the business meeting in Fukuoka, it was decided that first Asian Society of Veterinary Surgery would be held in the next AMAMS Meeting in Bangkok, collaborated with Veterinary Practitioners Association of Thailand (VPAT) Regional Veterinary Congress (VRVC). And in this first AiSVS Meeting, all the documents and regulations should be decided (Ref.1).

At this 1st AiSVS meeting, oral and poster scientific presentation and continuing education programs were presented. In the business meeting with major members of Asian surgeons, Constitutions and By-laws (Ref.2) were decided and Executive Board Members (Ref. 3) were elected. President was Dr. Nobuo Sasaki by election of the members. The period of presidency was 4 years.

AiSVS will be held annually in an Asian city. The individual membership is not adopted for a while but every country should have a society / group with veterinary surgeons in each country, which will have responsibility to manage the Society.

Office of AiSVS is in the University of Tokyo, the same office of the Society of Veterinary Anesthesia and Surgery of Japan (Laboratory of Veterinary Surgery, Graduate School of Agricultural and Life Sciences, the University of Tokyo, 1-1-1 Yayoi, Bunkyo-ku, Tokyo 113-8657, Japan).
---